Scott gives you a peek into daily life at EH
Dear Friends of Elephant Havens,
Good day to all of our friends and supporters of Elephant Havens. It is always a pleasure and honor to be able to visit Botswana and report back on the progress and the rhythm at Elephant Havens. Yep, the rhythm.
When MmaMotse was brought home to Elephant Havens just before Christmas about 3-and-a-half years ago, we began a mad dash to make a home for her and the team. When she arrived, we were without electricity (except to power the fence and gate house) or water (except from the river) and everyone had their own tent under the trees. I was reading to young MmaMotse as she grew accustomed to our voices and developed trust. You should see her today. She is a formidable leader with presence and kindness and a firm hand, or um, trunk.
Fast-forward to today and a week at Elephant Havens is a bustling testament to what we can all accomplish when we join together, make a plan, provide the funds and work away at it. Let me tell you about the current rhythm at Elephant Havens.
At sunrise the elephants wake and, after circling up to give thanks for each other and the day ahead, the team enters the bomas of each baby to rake and clean and remove the debris (mopane and terminalia branches stripped of bark and leaves in the way only an elephant can). Dung is harvested for the local dung paper project and for roadwork to fill the sand roads that lead to Elephant Havens through the countryside.
Clean up complete, each elephant spends time with a handler on simple commands that allow the elephants to be directed and attended to if we need to do so. After a bucket of fruits and pellets that they love, each elephant is treated with a hands-on rubdown from the handler of the day. They are then ready around 7:00 AM for their day out on the property just being elephants. The team members on night shift head to the staff village for a rest and the day shift takes over.
Daily activity (and nightly sleep for that matter) is broken up every 3 hours by bottle-feeding for the youngsters who are not yet weaned. This is always a fun time with some being noisy in anticipation of the bottle and some being noisy in disappointment at the end, for such a measly bottle as was presented to a young growing elephant.
Next on the agenda is visiting hours from 9:00–10:00 AM and 4:00–5:00 PM each day. Most often there are visitors from nearby and from afar in Botswana and from all over the world. Local interest and support has been just remarkable. Folks arrive by small cars in the dry season and by safari vehicle and helicopter all year round. You may hear many languages at the feeding area where one meets the elephants as we corral the people and the elephants roam on the outskirts, respectfully dropping in to have their stories told and to shake hands/trunks with our visitors.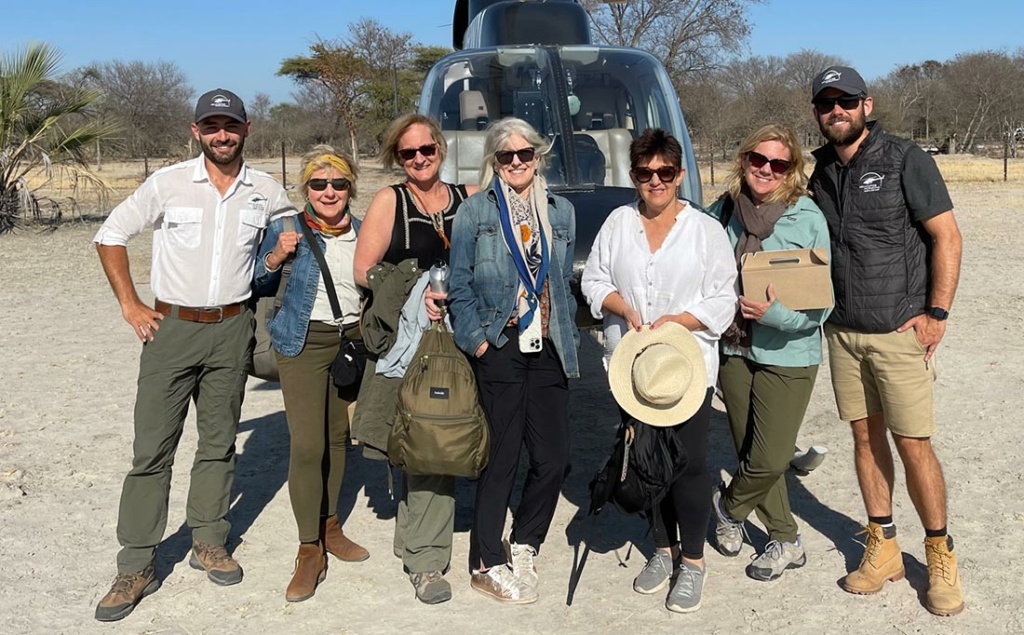 Often, we have visitors in for longer three-hour tours during which time they can walk with the elephants outside of visiting hours and be treated to a wonderful meal in the main area where we have a deck overlooking the waters of the Delta. Most often at mid-day, the young elephants come by to swim and mud wallow and dust bathe out front. This is an experience that will not soon, or ever, be forgotten—a pile of little elephants enjoying themselves like only elephants can. Splashing, trumpeting, charging about, diving, and kicking mud and water.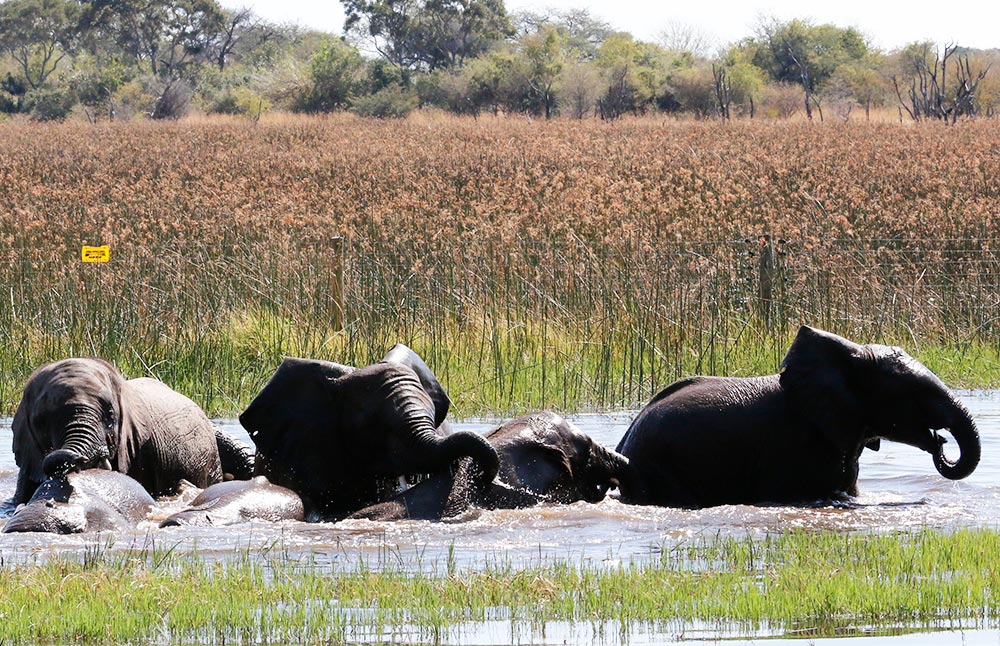 So that is the rhythm that one can count on, on any given day, in the world of the elephants. If you step out of the world that the babies create for you, you can see the other rhythms that Elephant Havens generates.
Up the road, within walking distance from the main gate, you will find the herd of goats that grows almost daily with new kids and dairy goats that will supply milk to the next generation of young rescues. The herd will produce a steady income to the herders while also saving the orphanage much money over the cost of the powdered human formula. Other goats have been gifted to farmers in return for the milk supply and, eventually, for cash to the farmers once the costs of the goats are recovered.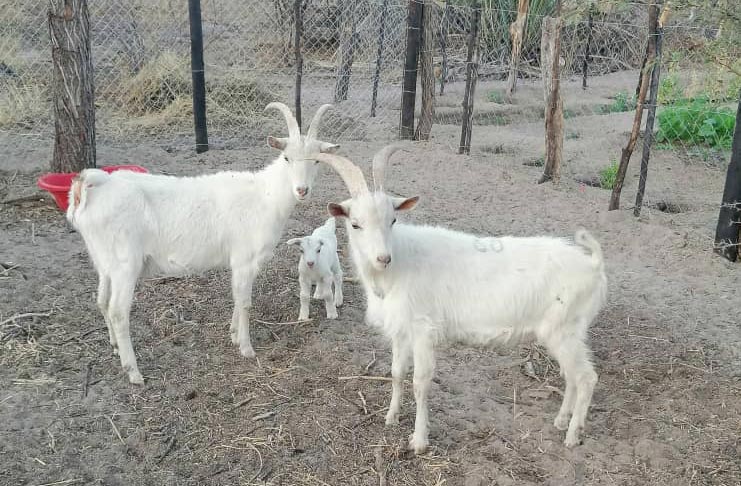 Go just a bit further and you will pass the first of multiple wells we have drilled to provide the first clean, year-round water in this large area. From there, through the acacia, you will see the community center with its toilet facilities courtesy of Elephant Havens and the meeting center that houses the ladies that operate our dung paper project.
Now on to the four miles of bush road that winds its way over and through Delta channels that ebb and flow and would be impassable much of the year but for the bridge building efforts of Elephant Havens. Once through this, you will find pavement and often see the Elephant Havens school bus on one of its eight routes a day. I was heading to town this last trip and found the bus halfway to Maun, carrying kids from the Shorobe school to special testing and schooling in Maun. Those children would not likely have ever been able to get this special assistance they need but for this ready transport.
That trip to town was to meet donors in from the States who were to visit for a few days and experience the joy of what their generosity has helped create. This brought me to the airport and the center of the village where I almost always encounter one of the many red wheelchairs that have been distributed in Maun courtesy of the Wheelchair Foundation and Elephant Havens.
That's what I mean by rhythm and progress. And that is just what one encounters going southwest between the Elephant Havens main gate and Maun. If, instead, you leave the main gate and head north you will encounter planting fields clustered together and protected by an electric fence provided by Elephant Havens. This fence was built with the joint labor of the farmers and our team. Proceed just past those farms and you will encounter almost 1,000 acres of fenced and protected habitat that just this week welcomed its first three rescued elephants on their journey to limited human contact and re-wilding.
And finally, if you leave the main gate and head to the pavement, proceeding to Shorobe in the opposite direction from Maun, you will find the Shorobe school where we are creating a new computer lab with 20 refurbished, like-new Apple MacBook Airs to start the project. And you will meet children in their new uniforms, in the two new tented classrooms supplied and installed by Elephant Havens. With the recent advent of the school bus, the school building became overcrowded and additional classroom space was needed. We were happy to be able to provide it.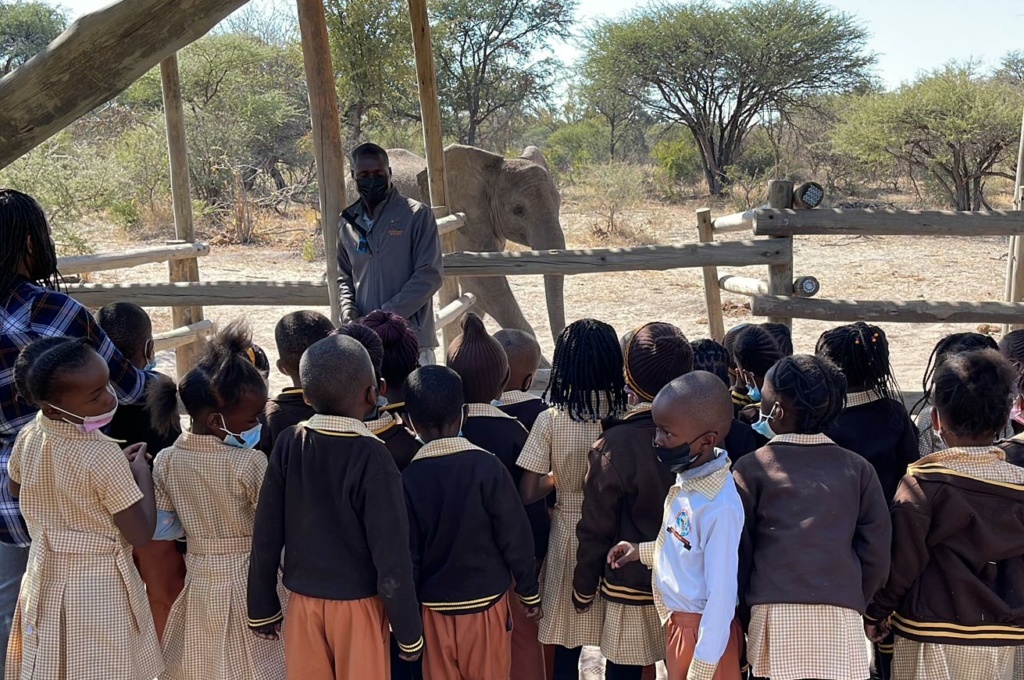 This year has seen our many projects prove to be realizable and worthy. We do need to expand the orphanage proper. Nine elephants are a lot, and this is a very healthy, fast-growing herd. We have expansion areas in the works and we only hope we receive allocation and approval in the next 60 days. We will then go about fencing with abandon and can open up new 'pastures'.
Of course, none of this is possible without you. Opportunities present themselves and are not mere pipedreams because you always have our back. We couldn't ask for better friends and supporters.
With gratitude,
Scott Jackson