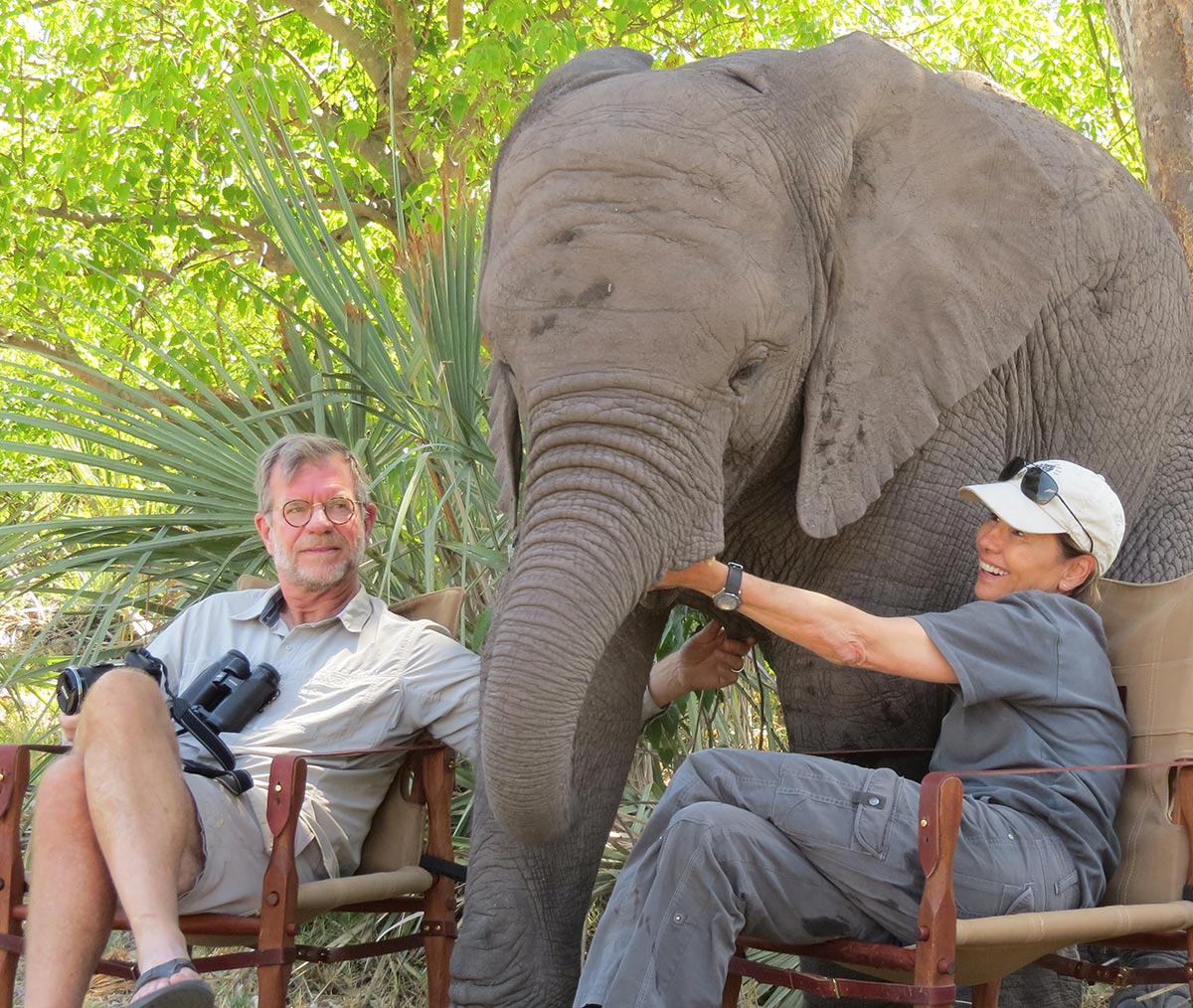 "Naledi stole my heart
the day I met her."

– Debra
Debra Stevens and her husband Scott Jackson have been trekking to Africa since 2000. Over the years, they fell in love with the villagers and wildlife.
But it was on a visit to Abu Camp in Botswana in 2013, when Debra met a 6-month-old orphaned elephant named Naledi, that her life changed. The connection between them was instantaneous and a lifelong bond was formed.
The baby elephant's mother had died when Naledi was only 6 weeks old. A 50-year-old female elephant began lactating to try to keep the baby alive, but sadly, this wasn't enough. Ultimately handlers from Abu Camp saved her life by removing her from the herd to be cared for full-time by humans. They named her Naledi and raised her until she was independent enough to reintroduce her to the herd. Handlers stayed by her side in the wild, always ready with a bottle of milk, because she wasn't yet weaned.
Debra met Naledi just before she was returned to the herd and over the next few years returned to Botswana often from her home in Texas. Without fail, Naledi still would still run to greet Debra every time she arrived. As she spent more time with Naledi, Debra learned how entrancing elephants are as a species. They have such a strong need for love and connection to community. In fact, they simply can't live without it. An orphaned elephant can die from grief without attachment to a "family", whether that's other herd members or humans.
It was in 2017 that Bee, then an elephant handler at Abu Camp who had worked to save Naledi, decided there needed to be a place dedicated to rescuing orphaned and abandoned babies in Botswana. He brought the idea to his good friends and fellow elephant lovers, Debra and Scott. This led the three of them to co-found the non-profit Elephant Havens Wildlife Foundation and build the only sanctuary of its kind in Botswana. This is a mission that was truly founded by love for elephants by the three of them.
Learn more about Elephant Havens
Mission
Discover how Elephant Havens Wildlife Foundation is making a significant difference in the lives of the people and orphaned elephants of Botswana.
Meet the Team
Get to know our founders Boago Poloko, Debra Stevens, and Scott Jackson, plus our team in Botswana.
Elephant Orphans
At the heart of Elephant Havens is our orphans, their care, and our long-term commitment to them.