Introducing our newest rescue
Wonderful news again! We are only about $15,000 away from our fundraising goal of $100,000. Our generous donor who will match those funds has inspired so many of you to donate, and we are just incredibly grateful. Until the end of the year, any amount you donate is worth double!
Now let me tell you about our newest rescue. He is a darling little boy about 12 months old. He was very malnourished when he first came to us. He also had been attacked by a lion and had wounds on his back that our vet quickly attended to. It is shocking what love and some good food can do in a few short weeks. This little boy is thriving. Our other foster babies have given him a warm welcome and they are thrilled to have a new baby to attend to.
We named him "Sandy" in honor of our good friend author Alexander McCall Smith. In his latest book in The No. 1 Ladies' Detective Agency series, How to Raise an Elephant, he was inspired by our story to include a young rescue elephant as part of the plot. I can't tell you how happy I am to have met him – totally by chance! – in the Maun airport two years ago.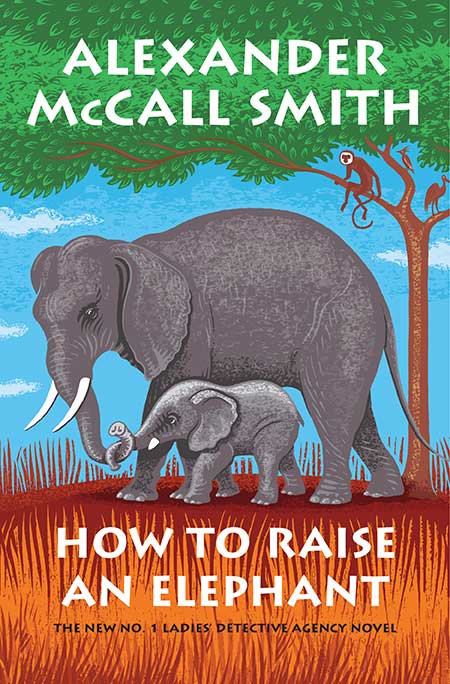 He mentioned Elephant Havens in his last newsletter to his fans, which introduced our little foundation to so many new people. And he's going above and beyond for us again. He's invited me to join him for his Zoom appearance with Dallas' own Interabang bookstore as part of his virtual book tour. Of course all of you are invited. I hope you can join us. Put it on your calendar for December 10 at 10am Central Time. Email debra@elephanthavens.com if you'd like the link to join.
In other news, we've hired two local women to train as elephant handlers. They will be the FIRST female handlers in Botswana. We are working hard to empower women from the local community, and we are so proud of these two.
Bee has also been busy in the community again. We just donated two office tables, an outdoor table, 10 chairs, and 50 liters of hand sanitizer to the nearby Matlapana Health Post. The health post serves up to 500 people. Can you believe this was one of the tables they were using before our donation?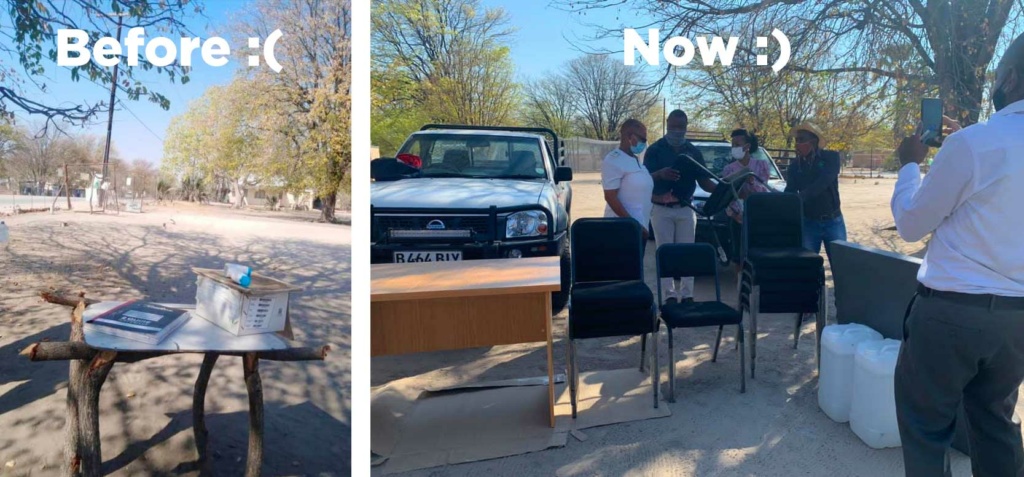 We're so glad we're able to supply them with things that we take for granted, but they so desperately need so they can serve their community.

One last thing—we only have 4 weeks left in the $100,000 matching challenge, so if you are planning your year-end giving, please consider donating to Elephant Havens. Every amount helps, big or small, and it's tax deductible.
If we can meet this matching challenge, we'll have $200,000 that we'll use to:
expand the staff village so all of our handlers could sleep indoors instead of in tents
build the electric fence around our new land where we'll transition our orphans back into herd life
buy a school bus to get the two dozen local children to school safely
help feed even more local families who are going hungry due to the Covid-19 pandemic
Thank you so much for being part of the Elephant Havens family. So many of you have reached out to donate and to foster our sweet orphans in the last two months, I can't tell you how much it touches my heart. Your support and encouragement mean everything to us.