Fall 2021 Update
There are so many wonderful happenings at Elephant Havens that I'm not sure where to begin.
Well, first let me introduce you to our new little girl Lerumo, which in Tswana language means "bullet." Lerumo has been with us 6 weeks now and is healing well from gunshot wounds to her trunk and chest.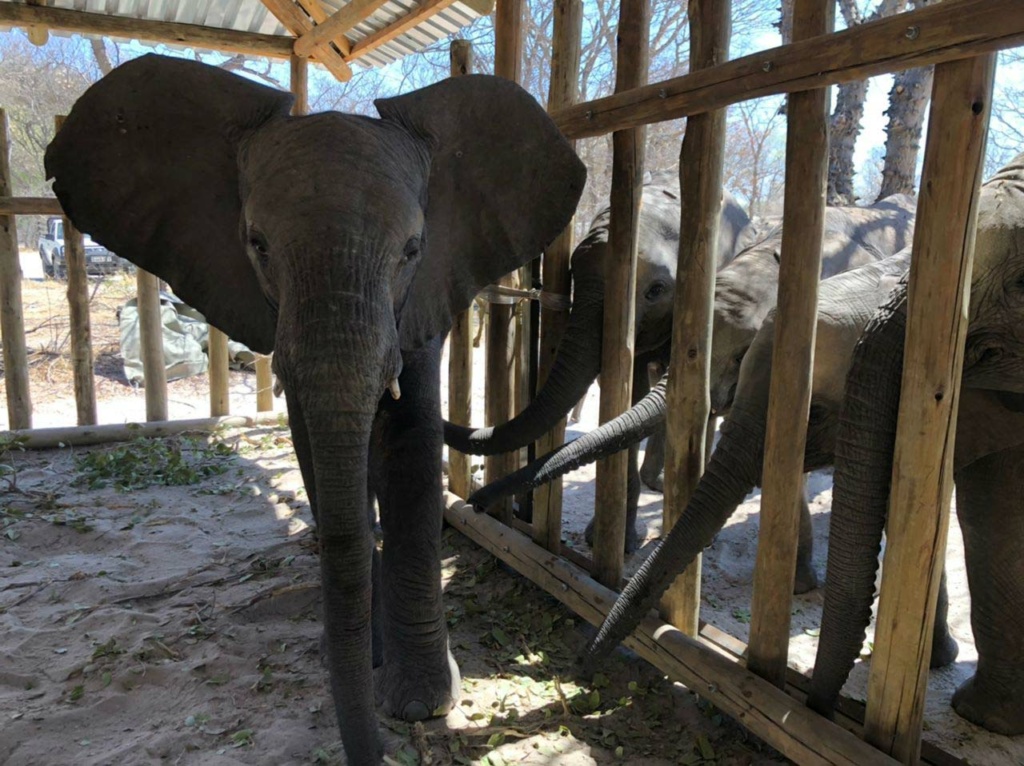 We first got the call about a baby needing our help—a poor little elephant who was still trying to nurse from her dead Mother who had been shot and killed.
Bee and our vet, Dr. Comfort, mobilized and tried and tried to get a good vantage point to dart the baby with a tranquilizer so we could rescue her. Unfortunately, she was in a wooded area where the vet couldn't get a clear shot, so we had to engage a helicopter to help. Helicopter Horizons came to our aid and donated the use of their chopper and pilot to help us with the rescue.
Once she was successfully darted, we realized that she, too, had been shot. Her trunk had a gaping hole from a shotgun blast. We also found that there were bullet fragments in her chest. I am so happy to report that with the care of Dr. Comfort and our team that have never left her side day and night, the wounds are almost completely closed. This little one has been severely traumatized, but I am confident that with the loving care of our handlers she will learn to trust again and will become a close member of our growing herd.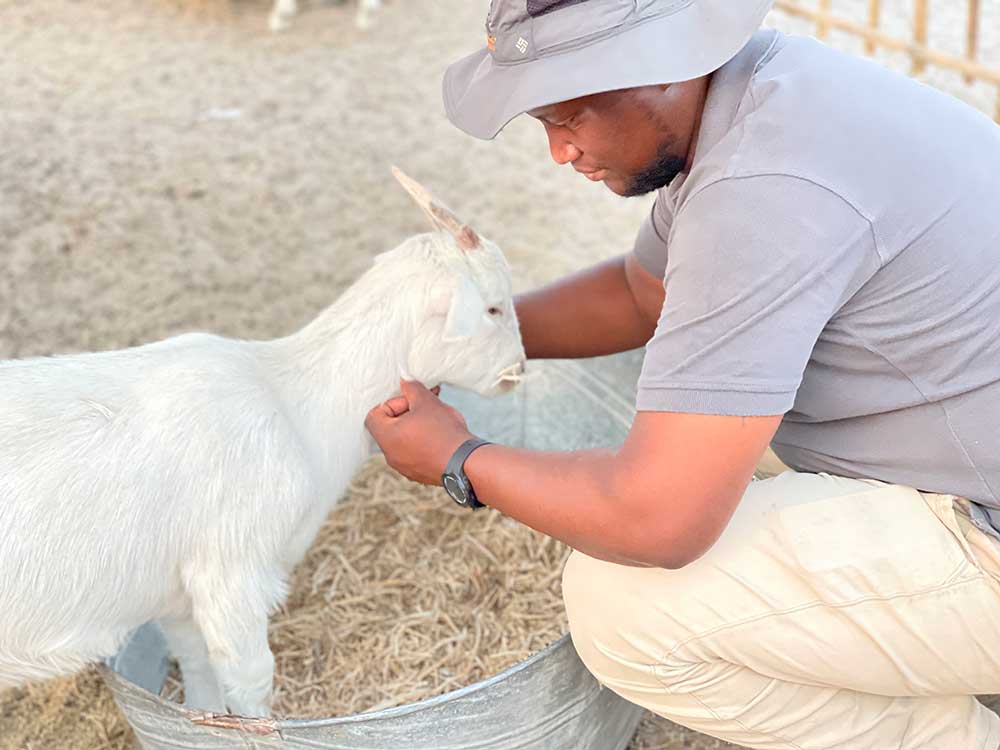 Some more very exciting news that I hinted at in my last update: we are now raising goats! Ok, why goats, you ask? Well, with the help of the Dallas Zoo, San Diego Zoo, and a wonderful orphanage in Kenya called Reteti, we've learned that the next best thing to elephant mother's milk is goat's milk! Reteti has been testing this for the last year, and it has proven to be extremely successful even with very young elephants.

Additionally, we are currently in the early stages of starting an initiative with the local farmers to help them start a goat milk business! With the help of several donors, we now have 24 dairy goats that are each expecting babies, so our goat herd is growing fast. Elephant Havens, with the help of the local chiefs, will select several qualified farmers who are willing and able to grow their herd and supply us with milk.
This is such an exciting way for villagers to learn ways that not only help wildlife but also help them to start their own sustainable businesses because of that same wildlife. It's a total win-win, and we have Reteti orphanage to thank for the idea. This is going to make such a huge difference for the local community and also for Elephant Havens.
By the way, it takes 70 goats to feed one baby elephant each day, so we need to add substantially more goats! With the help of our donors, and the fact that goats reproduce quickly, we do hope we can add many more goats in the near future.
We're proud to have a new female elephant handler on our staff. Precious, whose name fits her perfectly, is from our community and has completely fallen in love with our ele's. The transformation from being a little nervous around elephants to completely being at ease and loving them is so much fun to witness. We are so lucky to have such a wealth of ladies wanting to be "mothers" to our orphans.

We are also honored to report that the U.S. Embassy in Gaborone, the capital of Botswana, awarded Elephant Havens a small grant. These added funds will allow us to fence the large land area that the local village gifted us for the eventual soft release of our orphans.
One of the embassy employees visited Elephant Havens last year and was impressed with our accomplishments—not only at the orphanage but also with our community initiatives. A small grant became available, and they reached out to encourage us to apply. We're thankful they did, because we were rewarded with a nearly $14,000 grant. We are developing our grant writing talents as more of these opportunities present themselves. We hope you will all share in our excitement at the recognition EH receives for the work we have done and continue to do.

Finally, here's a quick recap of the day-to-day that is operating our ever-expanding elephant orphanage and community outreach. Since our last update we have expanded the staff village with a new duplex unit, have upgraded the existing ablution in the staff village, expanded sewer capacity, and have added electric fencing to an expansion area that nearly doubles the size of the primary orphanage.
The new expansion area is a dry acacia woodland contiguous to the current site, and the elephants love it. But boy, it is dry! They get thirsty and run back to the channel often.
We are encouraging the use of the new area in order to allow the vegetation on the original site a chance to recover. Elephants, even babies, can be hard on the landscape. So we are "engineering" a short term fix—a long run of water hoses in a shallow ditch until we can afford the PVC piping and labor and pump needed to set up a proper "pan" (pond in Botswana) that the eles can enjoy out in the acacia woodland.
We could not be where we are today without your help. I hope that you feel as proud as we do that together we are making a difference in so many lives—both four-legged and two-legged. 

Please think of Elephant Havens during this holiday season. We have many ways to honor your friends and relatives. You can purchase dairy goats for us, adopt one of our babies or just make a donation in someone's honor or memory. 
We always need your help and as always we promise to be good stewards of your donations. Thank you again for making this crazy dream a reality. Scott and I are grateful for your trust and belief in our mission. Please reach out if you have any questions, suggestions or advice.